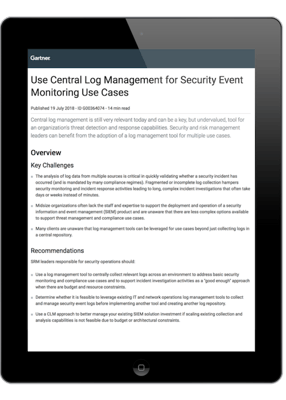 How Central Log Management Can Enhance Your Security Monitoring
As the attack surface grows, organizations are pressed to collect, monitor and act on all their data. This data growth brings significant security challenges, and the incomplete collection of log data hampers security monitoring and incident response activities.
Download the Gartner research paper, "Use Central Log Management for Security Event Monitoring Use Cases", to learn how teams on the forefront of security operations are leveraging log management to maximize their SIEM investments.
Effective security operations adopt the three pillars of Central Log Management:
COLLECTION

There are new entrants offering log collection and analysis for IT operations, typically deployed on customer premises, but increasingly delivered "as a service."


Log management tools compression and archiving such that logs can be stored more efficiently in a dedicated tool compared to how they are stored on the hosts or devices where they are generated


Use a CLM approach to better manage your existing SIEM solution investment if scaling existing collection and analysis capabilities is not feasible due to budget or architectural constraints