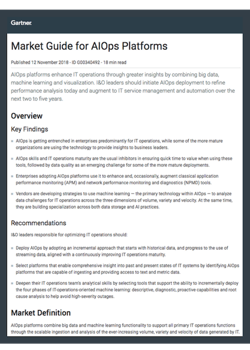 Enhance Your IT Ops: ITOM with an AIOps Platform
With increasing amounts and variations of data, IT operations leaders will need to look to adopt artificial intelligence into their IT management solutions over the next 5 years.
Devo is listed as one of 23 vendors in Gartner's 2018 Market Guide to AIOps Platforms. Download the full report to read about AIOps market direction and recommendations in choosing an AIOps platform.
Gartner has three recommendations for AIOps platform success:
Incremental Deployment

Ensure success in the deployment of AIOps functionality by adopting an incremental approach.
Historical & Streaming Data

Select an AIOps platform that is capable of supporting a broad range of historical and streaming data types.
Machine Learning Adoption

Choose tools with the ability to systematically progress across the four phases of IT-operations-oriented analytics and machine learning.